Click here to view our SEN Policy
What do we mean by the term Special Educational Needs?
Definition of Special Educational Needs from the Special Educational Needs and Disability (SEND) Code of Practice: for 0-25 years (2014)
A child or young person has SEN if they have a learning difficulty or disability which calls for special educational provision to be made for them. A child or compulsory school age or a young person has a learning difficulty or disability if they:
have a significantly greater difficulty in learning than the majority of others of the same age; or

have a disability which prevents or hinders them from making use of educational facilities of a kind generally provided for others of the same age in mainstream schools or mainstream post-16 institutions.
SEN Areas of Need
The 2014 SEND Code of Practice outlines four areas of special educational need that include a range of difficulties and conditions:
Communication and interaction

Cognition and learning

Social, emotional and mental health

Sensory and/or physical
The code states that:
"Many children and young people have difficulties that fit clearly into one of these areas; some have needs that span two or more areas; for others the precise nature of their need may not be clear at the outset."
Interventions
Interventions are small groups or one-to-one activities that are set up to address a specific area of difficulty that a child is experiencing. The class teacher oversees the progress and development of a child no matter who is leading the intervention. Each intervention has a distinct purpose and works towards very specific targets or outcomes.
What happens if a child experiences difficulties: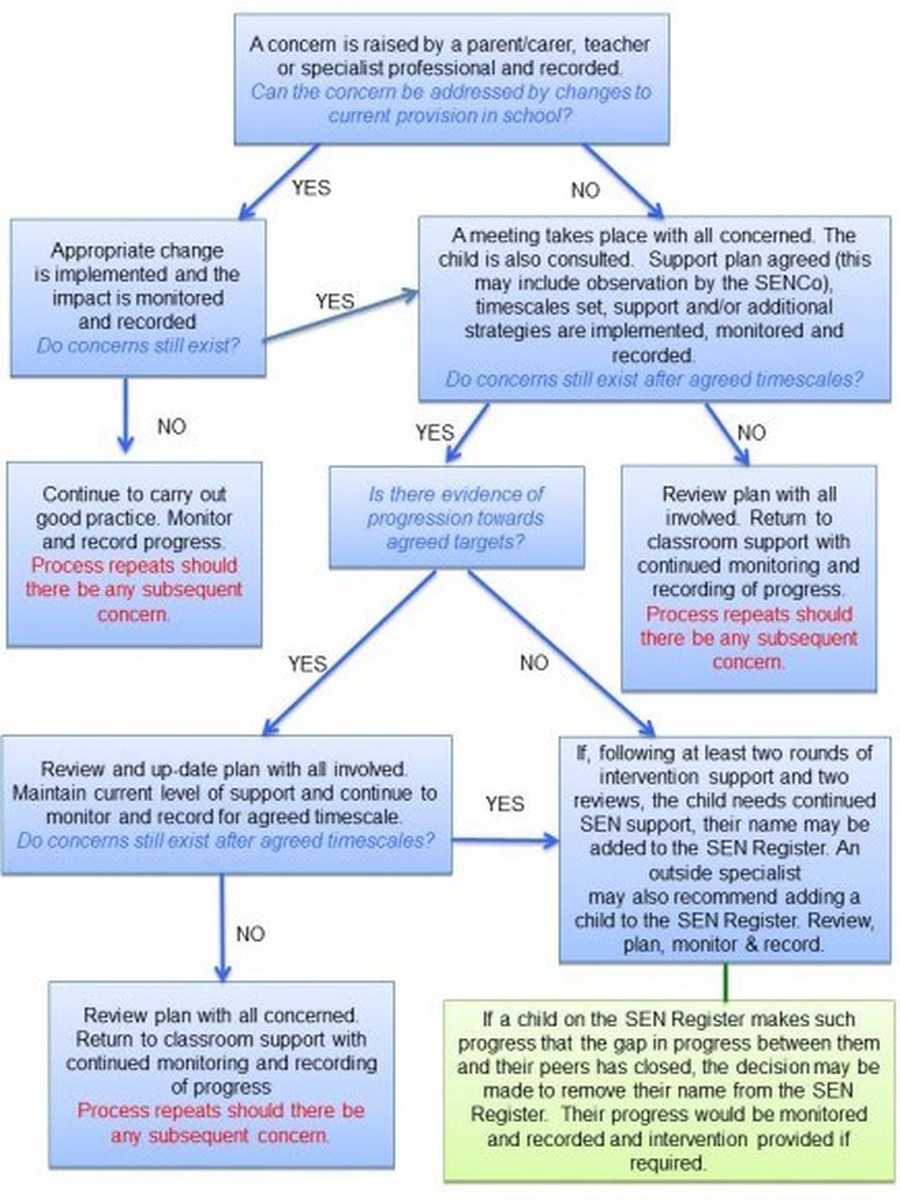 Meeting the Needs of Children with Special Educational Needs and Disabilities
Holy Trinity CE Primary School is an inclusive school and may offer the following range of provision to support pupils with SEND, including communication and interaction, cognition and learning difficulties, social, emotional and mental health problems or sensory or physical needs. The range of support deployed will be tailored to individual need following thorough assessment by internal or external agencies. It is designed to promote pupils working towards becoming independent and resilient learners and should not be seen in isolation.